5 ARTIFICIAL INTELLIGENCE TRENDS FOR 2020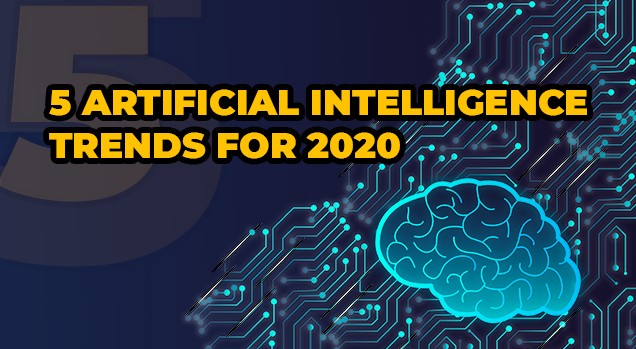 Artificial Intelligence is everywhere. You can not notice it, but it is with us in almost all areas of your life. Artificial intelligence is helping us explore the universe, diagnose diseases, and program autonomous cars, among thousands of other use cases across dozens of industries. And it will continue to affect our lives, businesses, our lifestyle and etc.
What can we expect from AI this year? I tried to point out 5 AI trends that I consider to be the most important ones.
1. Artificial intelligence in the form of machine learning with hyper-automation
Hyperautomatization is a combination of machine learning tools, software packages, and automation tools. We are talking about the application of these advanced technologies with the aim of greater automation of processes and complement human capabilities. Hyperautomatization is an inevitable vector of market development when organizations must quickly identify and automate all possible business processes.
And how is hyperautomatization different from usual? Hyperautomatization is the use of several tools used together, including robotic process automation (RPA), artificial intelligence (AI) and intelligent business process management (iBPM). If automation helps to remove routine tasks from employees, then hyperautomatization is aimed at supporting or even finalizing decision-making processes in an organization.
Hyperautomatization often leads to the creation of a "Digital Twin of Organization", allowing you to visualize how job functions, processes, and key performance indicators interact in creating value. Digital Twin visualizes processes and key performance indicators. This allows you to expand the capabilities of cloud-based analytical services used in the concept of industrial Internet of things (IoT)
2. Security through the use of artificial intelligence and machine learning
According to analysts, New technologies such as hyper-automation have the ability to transform a business but create new points through which an attack can be made. Therefore, security professionals must address these vulnerabilities and know how AI will affect IT security.
"Future AI protection has three main areas. Firstly, the protection of systems using AI, data intended for training AI, and models of ML. Secondly, the use of AI to strengthen security and MO to understand patterns, identify attacks and automate part of cybersecurity processes. Thirdly, predicting the use of AI by attackers, identifying attacks and defending them, "Gartner said.
3. IoT and AI working together on the Edge
Until recently the place for AI was in the cloud, but nowadays there is an increasing amount of data that is generated by the IoT devices, data volumes are literally exploding. And a key requirement for functional IoT is interoperable connections between the various sensors. The cloud could not manage it. That's why most of the business logic is now applied at the edge instead of the cloud to achieve low-latency, have faster response time and create the most efficient and sustainable IoT architecture.
AI-driven IoT at the edge is the future, and to make it happen AI chips are needed, read below.
4. AI chips
2020 is considered the most important year yet when it comes to the evolution of the nascent AI accelerator chip industry.
The global artificial intelligence (AI) chips market is expected to post a CAGR of around 39% during the period 2019–2023, according to the latest market research report by Technavio.
Processors will be produced to perform AI functions, which so far require separate devices. The new chips will begin to be used to work with AI tools such as computer vision, speech recognition, and natural language processing.
Major artificial intelligence applications for which AI chips are being used include Machine Learning (ML), Natural Language Processing (NLP), Expert Systems, Automated Speech Recognition, AI Planning, and Computer Vision.
With recent breakthroughs, AI chips have evolved to cater to a wide range of applications especially inference at the edge. With tech giants like NVIDIA, Apple, Google, Huawei, and Intel among others investing in edge inferencing, the edge segment is going to drive the growth of the artificial intelligence chip market through the adoption of specialized AI chips and accelerators during the forecast period. (source: https://www.theinsightpartners.com)
5. Human and AI. Peace. No. War
While a lot of jobs would be lost due to AI, many others would be created and human but capacities enhanced with the help of real-time data analytics. Reskilling would be common in the age of AI and as per a survey by IDC by 2025 over 75% of organizations will invest in reskilling programs to bridge the rising skill gap. According to a 2018 report, the approximate number of qualified researchers currently in the field of AI is 300,000, while companies require a million or more AI specialists.
TO SUM UP
In 2020, AI only continues to grow as we near a tipping point where the majority of businesses simply won't be able to delay any longer.
Those who implement and use AI across business needs will take a major step up in the next several years.
Have any questions? Looking forward to answering!