6 TIPS on HOW TO CHOOSE QA COMPANY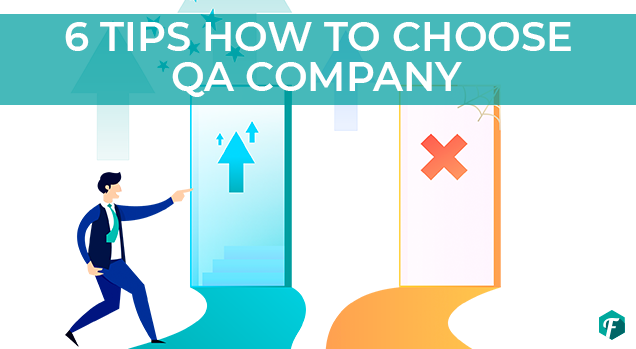 Without Quality Assurance you can not be sure that your product or project can hit the market. QA is a necessity because we all make mistakes. More often it is because of incomplete documentation or gaps in software architecture which leads to unexpected behavior of the product. Some of them can be insignificant, as well as the others can be crucial! That's why every product needs verification, quality assurance before it can be released and safely used.
That's why many companies refer to Quality Assurance and Software Testing Companies. Nowadays there are tons of these companies. But how to choose the right one? The one that fits you perfectly? In this article, we suggest you some points on which you should pay attention first. I hope these points will make your choice easier. Let's start!
So, the first and one of the most important thing is:
1. SECURITY AND INFRASTRUCTURE
We are dealing with a lot of secured data, we have access to the confidential information, hence knowing about how the company organizes to keep security intact is very important. The company needs the capacity to offer security in various components like physical security, organizing, and database security. What about infrastructure — certain testing requires specialized setup including devices, network conditions, so it is advisable to check on the mechanism which is used to test devices as well as connection setup before hiring the QA company.
2. EXPERIENCE AND TEAM
Before you decide to hire a company, read more about the services they provide (in a perfect world it should be a wide range of services from unit testing to complex system integration testing of enterprise applications), what all expertise they hold, and how old is the company, track the record of their past projects, clients etc., they have provided in the past. You can also read about the QA Awards they've been shortlisted in — it also a great indicator of the experience.
Testing done by amateurs vs testing done by professionals makes a big difference in the result.
Emphasize also on the field of their past projects. For example, if the company has a great experience in testing bike sharing applications or everything else connected with smart cities — that means that this company can easily handle other IoT applications and other wonderful things connected with "smart".
3.WELL-ESTABLISHED PROCESSES AND WORKFLOW
QA Company should have its own finely-tuned processes that they follow. If the team follows the workflow perfectly — that means that this team is highly responsible, competent and you can rely on it.
4. COST-EFFECTIVENESS
We suggest choosing such companies that will work on both manual and automation testing efforts. It is very cost-effective for you to take a look at the companies that provide so-called "Full-Stack" Teams which include both Manual and Automation QA engineers and in some cases even the Project Manager. Imagine how easier your life could be when you have basically 3-in-1. It is an effective use of your resources. That's why it's important to begin the testing of your project with both Manual and Automation QA Engineers.
5. READINESS FOR A LONG-TERM PARTNERSHIP
Willingness to building long-term partnerships is a good sign. Such QA companies concentrate on consistently providing great service and be a value-added partner to enhance the business of their customers.QA companies are not just looking for bugs and trying to break the application. It is about continuous improvement, defining a clear testing strategy and improving product quality. A high-quality QA company will provide a work guarantee, which will display their confidence in the superiority and deliverance of their services.
6. FLEXIBILITY AND TRANSPARENCY IN COMMUNICATION
The trust of the companies is measured by the transparency of the communication, do you agree? The company you choose should provide a dedicated person that would be always ready to handle the project and manage any issueы to ensure the success of the project. And also the team should be always ready to communicate face-to-face. Ensure that the vendor is highly responsive and provides effective responses.