Fintegro Company Inc. is a finalist of The North American Software Testing & QA Awards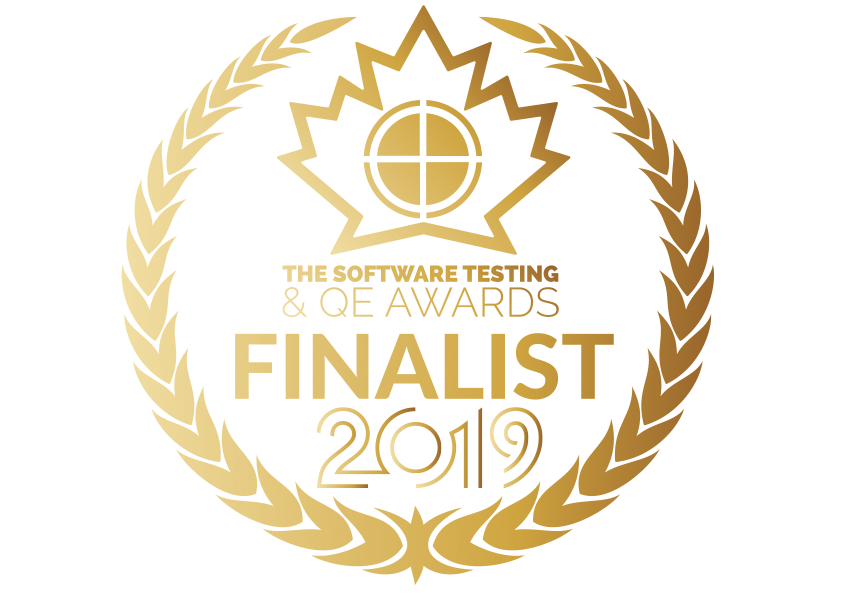 The last week was a very special week for us! Guess who will be standing on the one stage with such giants of the industry like Dell EMC, Tech Mahindra, Sony Pictures Entertainment? Fintegro Company Inc. will!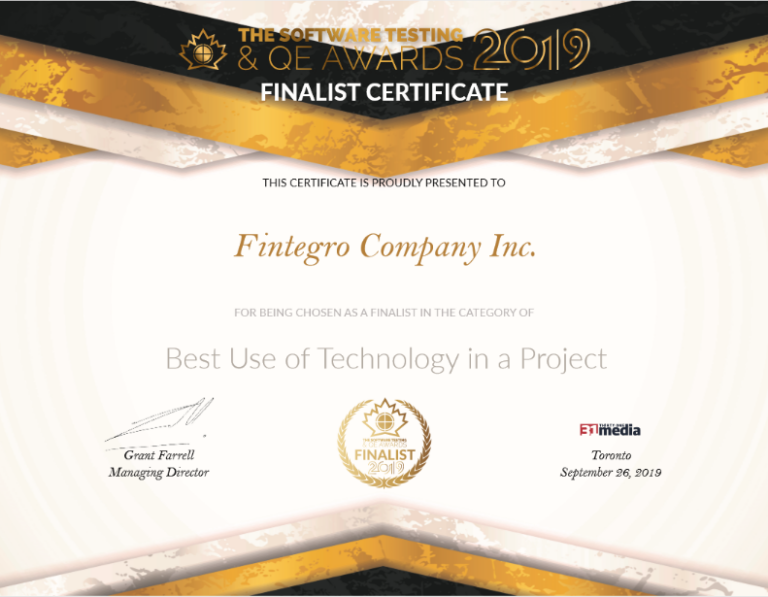 We were selected as a finalist in the category "Best Use of Technology in a Project" for The North American Software Testing & QE Awards. There are no words to describe our happiness. Because North American Software Testing & QE Awards is an annual event held in Toronto honoring the work of outstanding specialists in the software testing and QA industry. All members of our team are very excited and are in anticipation of the Gala dinner which will be held at the Ritz Carlton, Toronto, this October 30th.
And it is no surprise that our CEO Denis Cherkasov decided to visit this event on his own. And he will be very happy to meet all the participants over the Award. By the way, if you are not a participant but interested in QA and everything connected with it, Denis will be staying in Toronto from October 31 till November 1. Feel free to contact him in Linkedin: https://www.linkedin.com/in/dcherkasov/
Definitely you want to know why we have become the finalists and what have we done, don't you? So here it is:
The category in which we have been shortlisted is "Best Use of Technology in a Project". Fintegro Company Inc. has become a finalist in this category because of the outstanding application of technology in a testing project. We deliver the full cycle of testing and the End-to-End testing process for the whole product that was organized and integrated into the Continuous Delivery process. What do you think about it? 😉
Judges in this category were looking for:
Detailed discussion around project methodology and justification of technology choices and application

Cutting-edge and fit-for-purpose technology was correctly and effectively used

Evidence of working closely with stakeholders to deliver the project on time and within budget

Verification of project goals, importance, achievements and successful results
It sounds complicated but with our hard work, attentiveness to the wishes of our clients, enthusiasm for the excellence and motivation of our team we achieved such acknowledgment! And by the way, all of those requirements are things Fintegro Company Inc. strives for each project.
We believe that winning an award or being a finalist can ensure that the company and their work are perceived by the industry colleagues and clients as a leading provider of software testing services and solutions.
And again we are extremely happy to be part of such a great event and we are looking forward to finding out who will become the winner. Keep tuned to know it the first! And of course, support us 😉
LinkedIn: https://www.linkedin.com/company/fintegro-company-inc
Twitter: https://twitter.com/fintegro
Facebook: https://www.facebook.com/fintegro
P.S. We are always happy to read your comments and thoughts 😉